TAKE A CANOE, YOU'LL BE GLAD YOU DID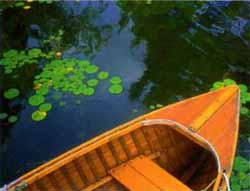 The lakes and rivers of the Kawarthas lend themselves beautifully to the delightful art of canoeing. Whether your passion is to be out alone or with a companion, the canoe is a great way to take on the scenery and enjoy a day (or longer) on the water.
Canoes have been constructed of tin, rubber, aluminum, fiberglass, kevlar, ABS, graphite compounds and even concrete. however, most of those materials defeat the purpose of the canoe, which is to transport us into a quiet river or lake, to enjoy nature in all her forms.
Bobcaygeon canoe restorer Doug Farr offers the following tips in order to have the most enjoyable experience with your canoe. You have to remember a few general rules. First, canoeist should kneel, not sit in the vehicle. Rest or support your backside by leaning against the seat, space your knees comfortably apart on a towel or thin sponge for padding. By kneeling, the centre of gravity is kept low and the canoe is in balance. Sitting on the seats makes for a higher centre of gravity and the out of balance canoe is more likely to tip over as you are forced to lean out to paddle.
You can rent a canoe in cottage country, or bring your own but make sure it has been properly cared for and stored. Canoes should not be stored on the ground for a long period or be put away with water in them.
A little common sense will go a long way in making any canoe outing a success. Take care to remove any water that gets into the canoe as soon as possible and don't drag the canoe on the shore. Never wear hard shoes in the canoe and don't walk or sit in the canoe when it is not in the water. Make sure that your canoe is not exposed to the hot sun when it is not in the water and remember that canoes are best stored upside down, supported evenly when not in use.
When you put your canoe away for the season, wash it inside and out with hot soapy water. Rinse with clean water and put on a pair of saw horses to dry. Store upside down and indoors of possible. It it must be stored outside, make sure it is off the ground and covered with a good waterproof tarp and you'll be all set for the next canoeing season.
HISTORIC INFORMATION
We have a selection of historic catalogues that include Companies like:
Peterborough; Chestnut; Beaver; Kennebec; Old Town;
Carleton; Canadian; Faber
Thanks to "Jack C. Wagner" of Michigan, U.S.A. who is
somewhat of a canadian canoe buff himself.
If you are in need of some information about your particular canoe,
we should be able to help. Just call us.
Too many a canoe becomes a close friend. Many life experiences happen
in a canoe. Restoring that old friend ensures many more pleasureable
memories for you and your family for years to come.